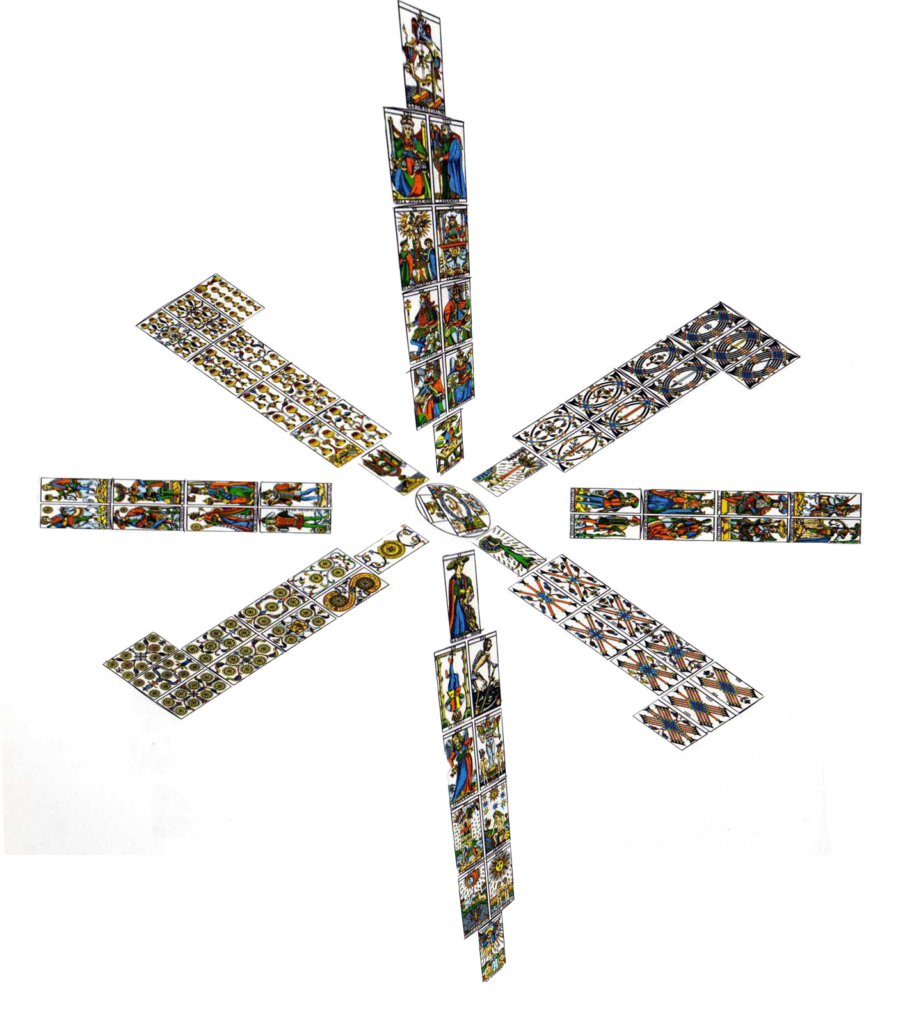 For those interested in becoming more autonomous with this methodology, I do offer individual and group classes on a regular basis.
Every class comes with a complimentary 30 minute reading to help integrate that which has been learned.
Classes and their content
1st Class
Introduction (philosophy of my practice, minor arcanas, numerology and the Mandala)
2h30 version = 80$ to 120$ sliding scale
Content:
– The history and origins of the Tarot de Marseille
– An explanation of Alexandro Jodorowsky's approach and my concentration
– An exploration of the central proposition of Tarot, the mental model it proposes for the world and an idea of how to use this tool for good.
– An introduction to the whole system of the Tarot through the Mandala of Tarot
– A presentation of the numerology of the tarot using the Minor Arcanas as a learning foundation.
– A brief overview of "The Way of the Tarot", Jodorowsky's book, and on how to be more autonomous un your future learning.
4h version     =  120$ to 180$ sliding scale
– add more time to explore the different meanings of the minor families,
– More time to explore and detail the court cards
– a 40 minute Q&A / practice session.
2nd Class
Major Arcanas, the completion of the Mandala and basic reading exercises.
2h30 version = 80$ to 120$ sliding scale
– An analysis of the Major Arcanas and their place in the Tarot Mandala.
– With this knowledge, we revisit the mandala and complete the mental model suggested by Tarot.
– A few exercises in reading are used to close off the session.
3rd Class
The tarot reader's posture, types of reading and elementary syntaxe
2h30 version = 80$ to 120$ sliding scale
– An in depth conversation on the role of the tarot reader and their posture towards clients.
– A presentation of a few different reading structures (ways of placing cards) and their uses.
– Reading exercises and integration of basic syntax in interpretation.
4th Class
Detailed syntax and more about symbologie
2h30 version = 80$ to 120$ sliding scale
– This is a practical class, exploring different sentence structures that can be created while reading Tarot. A deeper exploration / explanation of syntax and symbols will emerge from the exercises. .
Beyond this class, it is likely that future growth and learning will be better served by more practice and adapted classes.
Looking forward to finding you sitting around the cards!
[contact-form-7 404 "Not Found"]